During the publicity tour for our newest novel, Captain, we were asked about our life at the Ranch. Here is that article:
Thomas Block, Author of 'Captain', talks about life on his Florida Ranch
My wife Sharon has been a horse-involved person her entire life, and she managed to finally get me involved soon after I retired from airline flying in April, 2000. I rode my first horse when I was 56 years old, so I was definitely an older guy starting something totally new!
You can see more about this at both of our two websites: www.ThomasBlockNovels.com and www.FlyingB-Ranch.com. Matter of fact, the two websites are directly connected, so you can simply slide from one to the other by hitting the link button between them. We've got photos, videos and lots of information on the two sites that covers everything in our lives – novels, airplanes, horses and the ranch, our horse-motel operation (including our honored periodic guests, the Budweiser Clydesdale operation and the Wells-Fargo Stagecoach team – read more about them on the ranch website), new and old photos, and even our two house cats Furr and Fuzz.
I've found that I've really enjoyed working with horses on our Florida ranch a great deal, and then got myself involved in Cowboy Mounted Shooting (a competitive sport where we shoot at balloons from horseback with old-west style guns). With Mounted Shooting, I've discovered something really neat to do with my horse that more than fills my free time, and it was an absolute thrill for me to be able to finally become one of those cowboys (and one of the Cavalry Troopers!) that I loved to watch at the movies and on TV when I was a kid.
In the beginning, I really wondered if I would actually be able to navigate a galloping horse through a pattern of balloons while shooting them with an old-style western six-shooter. By working on my riding skills, by spending lots of time with my horses, and by learning how to effectively shoot those old-style pistols with one hand (my other hand is on the horse's reins), I was able to put myself back into all those old westerns from over a half century ago that I loved so much!
I've made a great many friends from the horse world, and particularly among the cowboy mounted shooters (at most events, the participants are about evenly divided between men and women). The biggest of the mounted shooting organizations that I belong to is the Cowboy Mounted Shooting Association (CMSA), and I've been an active member of that group for nearly ten years.
I'm also happy to report that the CMSA has recently featured Captain in their magazine with a big spread and a rave review – here's what they said: "…A diversified and very realistic cast of complex characters are thrown into the chaos…one heck of a gripping saga…I found the story to be fascinating, I couldn't put it down…" are some of the quotes from that Mounted Shooting magazine's review. It's very satisfying to have folks from a totally separate portion of your life make an enthusiastic crossover to something else that you've done and are proud of. I've gotten a huge amount of very positive feedback about Captain (and also about my other action/adventure novels) from many of the people I've met during my mounted shooting travels across the country.
Sharon and I do most of our ranch work ourselves, and if you'll look through our ranch photo gallery you'll see that our 33 acre 'Ranch and Horse Motel' is a place where we like to spend time. I've swapped my captain's seat in the front office of a Boeing airliner for a seat in a John Deere tractor, backhoe and excavator, to name just a few of the pieces of ranch rolling stock that keeps our place in good working order.
The two parts of our life style complement each other real well, and there is nothing more 'real' and hands-on after spending several hours at the desk working on novels than to saddle up your own horse and go for a ride. It's an exciting and satisfying way to balance out all the requirements that go into developing and creating a fictional world on paper to share with others.
One other thing I'd like to share is a tribute to my beloved horse Mister Cloud, who recently died. He was my very first horse, and we learned how to do many things together. Due to medical problems, he was retired from active riding the past few years, and he is buried here at the ranch.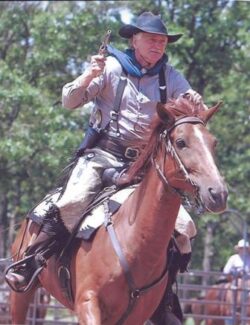 To read more about Mister Cloud, go to 'Sad Day at Our Ranch' at our ranch website, and then click your way over to www.ThomasBlockNovels.com to see the other things that we've been doing. On behalf of Sharon, myself and all the critters large and small that are an integral part of our Ranch and Novels lifestyle, we thank you for sharing part of your day with us.