Overnight Parking with electric, water and sewer: $40/night
Horse stalls (one horse per stall): $40/night
Paddock areas: $30/night for first horse, $25 for each additional horse in the same paddock (maximum 3 horses per paddock)
Long-term guests (continuous stays for two weeks, a month, or more) are eligible for considerable discounts – check with the Ranch!
Flying B Ranch Policies and Procedures are posted at the barn – a copy is available on request. Horse boarders must clean stalls every day and before final departure or they will be charged a cleaning fee ($15/stall/day). Ranch will provide bedding material at in each stall at no additional charge, and Ranch will provide wheeled buckets which are dumped into the spreader parked beneath the north overhang of the horse barn, and all buckets/forks must be returned to their storage location under the overhang. No cleaning of the paddock areas is required during short-term use.
GUESTS MUST SIGN THE RANCH LIABILITY RELEASE BEFORE UTILIZING THE FACILITY IN ANY MANNER.
Barn & RV Policies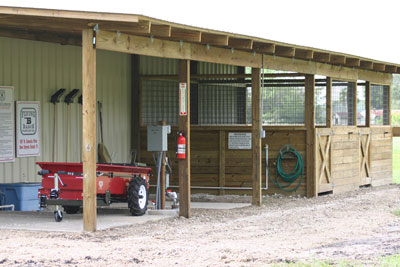 ALL RV spots, all paddocks and all barn stalls are now equipped with high quality water access through our guest house Culligan Water Conditioning system. RV spots have both 30 and 50 amp electric service, and a direct sewer access connection at most. Horse boarders clean their own stalls (and paddock areas during longer-term use) with Ranch-provided wheeled buckets which are dumped into the spreader parked on the north side of the guest barn. The Ranch provides initial bedding for the stalls and one additional bedding for each additional night; more bedding can be purchased from the ranch if necessary. When using the paddock areas, cleaning is not required for short-term overnight use.
All horses MUST have current Coggins and be in good health/sound condition. Large trash cans for general household waste (bagged, please) is located under the guest barn north side overhang – please do not leave waste/debris anywhere else. There is absolutely no smoking in or around any building on the ranch. Feed and Tack stores are located nearby – ask the Ranch for directions. Dogs and other pets must be leashed or under full control at all times. Owners must clean up after their pets. Report any problems to the Ranch owners at the main (white) house, the large grey barn, or see the contact sheet for telephone numbers.
Owners must produce a current Coggins certificate for each horse at time of check in. Payment in full for your entire stay (cash or a personal check made out to "Flying B Ranch") is due at that time. We can take credit cards through Paypal, but an additional 3% fee is charged.