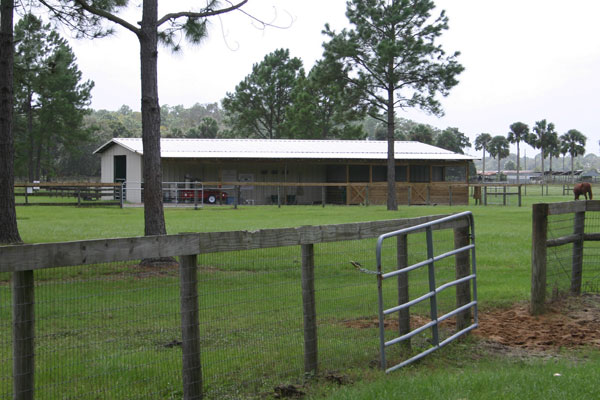 Flying B Ranch offers overnight accommodations for travelers with horses in our dedicated and renovated guest barn (ten 12×12 stalls with rubber mat flooring. Each stall comes equipped with feed and water buckets, and a mounted fan to keep your horses comfortable in warm weather). We also have several large (70′ by 180′) paddock areas, most with trees, all with water, adjacent to the guest barn that can accommodate up to three horses each. For the barn stalls, the Ranch provides good quality bedding material on your arrival, and one additional bedding each additional night (more can be purchased from the ranch). Individual horse owners are required to clean their stalls daily, and just before their departure.
Adjacent to the guest barn are Six individual RV sites that are COMPLETE with good quality water access through our guest house Culligan Water System, electric hookups (both 30 and 50 amp service outlets are available), and direct sewer access.  The ranch facilities are accessed down a well-marked and well-maintained private gravel road. This places the guest barn and RV spots more than a half mile from the nearest public blacktop road, which makes the Flying B Ranch a very quiet overnight stop for travelers looking to get some needed rest, or for longer-term visitors looking for that ideal quiet spot for spending their vacation time.  The ranch is easily accessible for even the biggest truck/trailer/RV rigs – see the Endorsement regarding the Budweiser Clydesdales and the Wells Fargo Stagecoach Team!
Reservations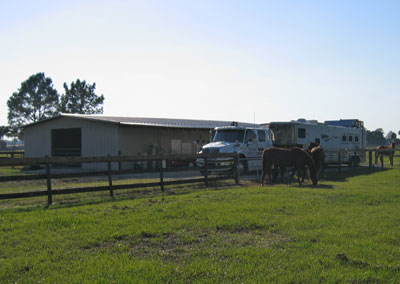 For more information about staying at the Flying B Ranch, Email Us. Otherwise, you can telephone the Ranch at 386-478-1244 (leave a message, we might be out with the horses), or send a fax to 386-478-1072. We do not require a deposit to take a reservation for a one night stay within the next several days, but a multiple night's stay that is being reserved more than two weeks ahead will require a non-refundable deposit. The deposit can be mailed to the ranch at the address below, or contact us to have a PayPal invoice for payment sent to you via email (a 3% additional fee for credit card use).
Please let us know what approximate time you plan to arrive, and we would appreciate a verifying telephone call when you are 1 to 2 hours out (leave a message) so that we will be ready for you. Please try to make your arrival before 9:00 pm (8:00 pm winter), but we do understand that when traveling with horses, sometimes things occur that might make this original plan an impossibility – again, a telephone call to let us know about any delays will be appreciated.